-- What's New on the Scene --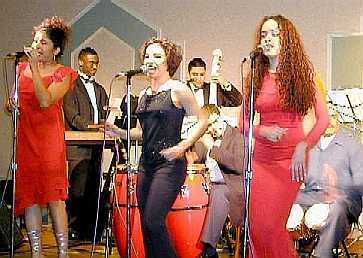 Chicago Band Angelle put on a hot show at the Ramada Inn on Feb 15, along with Salsa Power, Veneno, and Tributo a Hector Lavoe
(put on by C&G Entertainment)
"Tropical Fridays"
New Radio Program
Tune in beginning Friday March 14th 7-10:00 PM on WEMP AM 1250. Milwaukee's newest radio show offering the latest in Salsa and Merengue music. Hosted by Harry O.
Bachata Class
Wednesdays in February 7:00pm. Intermediate Bachata Class. Taught by Anita Ginther at EastTowne Ballrooms. Full details on the Lessons page. 614 N. Broadway. 271-1002.
New Latin Music Radio
Show "Sabor Latino"
Weekly shows Sundays 7-8pm on AM 540. Hosted by Tina Elmergreen and Javier Aveiro.
-------------------------------------
(We cannot guaranty the accuracy of information on this site. Please read our
Disclaimer
)